New England is an excellent location to splash around and enjoy some exciting water-based activities. It has lakes, rivers, and beaches around every corner. This gives you the opportunity to indulge in a variety of water sports. Among the popular activities are boating and swimming.
However, they are just two of the many things that you can savor on water while in New England. So, here are some of the exciting water sports you can try in this part of the United States:
1. Scuba diving
You might've already experienced the thrill of being on surface of the water. Now, it's time you went scuba diving under it. You'll love the feeling of being weightless, touring the turquoise waters. Try taking a dive in a shallow pool or bay first.
Then you can work your way up to have the complete scuba diving experience. There are certain places in New Hampshire, Connecticut, Portsmouth, and Maine where you can take the lessons.
2. Jet skiing
A jet skier zipping across the surface of the water seems to be an intimidating sight. While watching this from the coastline, you'd wonder how they manage to do that. Be it freshwater or saltwater, this particular water sport is popular among many individuals.
It can be enjoyed on the sea or a lake with proper training. You can learn jet skiing before hitting the waves on Lake Winnipesaukee. Another best location for this activity is on the waters touching Rhode Island.
3. Windsurfing
If you wish to experience the thrill of gliding on top of the waves, try windsurfing. Using the sizable sail of your board and free-rotating joint, you can navigate on the ocean gales. There are many fantastic spots in New England to go windsurfing. Some of them are Cape Cod and the islands.
Before you go ahead, one important thing to remember is that the wind is your friend. Once you let go of the fear of strong winds, windsurfing would be a breeze.
4. Whitewater rafting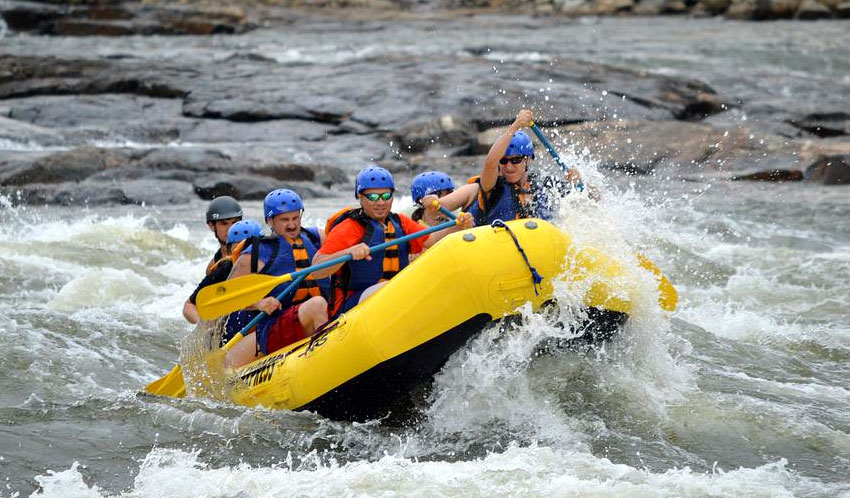 While planning a family vacation or your team outing in New England, keep whitewater rafting in mind. This is an ideal water-based activity for such trips. It would give everyone the thrill of paddling down the wet roller coaster of nature.
The crashing waterway gives the right doses of excitement for those who are in the front row. There are several sections of whitewater in the rivers of New England. You can get in touch with one of the rafting tour centers in western Massachusetts for the bookings.
5. Wakeboarding
Those who have tried snowboarding before can find wakeboarding somewhat similar. The difference is that you ride a wakeboard over the surface of the water. Usually, you're towed by a speedboat in wakeboarding. If you're a beginner, you can test the waters at Brownstone Park, which is located in Central Connecticut.
This is done with the help of a cable system. Board rentals are available in the Gilford town in New Hampshire.
6. Bodyboarding
Bodyboarding is an inexpensive and easy water-based activity for those who are new to water sports. You don't need to perform any balancing act here. When compared to surfing, the learning curve is much quicker in bodyboarding. This doesn't mean that it is less thrilling than the other water sports. You can get to coastal New England and conquer the waves with your beginner's kit.